In 2013, after years of unrelenting peer pressure, I caved.
Switched sides.
Did the deed, so to speak.
I ditched my PC and picked up a shiny, new MacBook.
(*cue heavens opening!*)
It was love at first login, with one small exception: shortcuts.
My tried and true PC keystroke shortcuts were different on a Mac.  And learning them  looking them up and cutting/pasting little notes on my desk till they were memorized wasted precious time.  
I'm not a fan of wasted time. (Understatement!) Because, good wine toasts. Laughing 'till I snort. Date night with the hubs. All waayyyyyy better things I could be doing while trying to figure out "what key was I supposed to push to open a new tab?" (Seriously, priorities.)
Well, I've got 'em down pat, now.  And I've put 'em all together right here.
So you can get to the things that really matter to you, instead of Googling "how to take a screenshot on a Mac" (incidentally, number five on this list.)
(Head to the bottom of the post to get a downloadable cheat sheet you can print!)
Here we go…
MY 10 FAVOURITE MAC SHORTCUTS
(NOTE: The "COMMAND" key is represented by the "⌘" symbol
as on the Mac keyboard)
QUIT:

⌘

+ Q |  When you want to quickly quit any application, program or screen.
SPOTLIGHT SEARCH:

⌘

+ SPACEBAR  |  

To find anything (and I mean

anything

!) on your Mac, this bit of tech wizardry pops up on the top right of your screen as a magnifying glass. It indexes it all: Web pages searched, apps, PDF's, images, files. ALL. OF. IT. Time saver extraordinaire. (And why it's my favourite).

COPY, CUT AND PASTE:

⌘

+ C

,  ⌘

+ X,  

⌘

+ V  |  

Mousepad scrolling and clicking the edit tab every stinkin' time I needed to copy (C), cut (X) or paste (V) gave me a serious case of finger cramps in my first Mac-days. Now, all three are a piece of

cake

pie. (

Mmmmmm…..pie

.)

CYCLE OPEN APPS:

⌘

+ TAB:  |  To quickly pull up and scroll through all the apps you've got open and on the go.
SCREENSHOT:

⌘

+ SHIFT + 3 (FULL SCREEN)  OR  

⌘

+ SHIFT + 4 (SELECTED PARTS OF SCREEN) |  

Need to grab everything on your screen at once? No problem. Or, use the

⌘ + shift + 4 to get an expandable cross-hairs you can use to select the part of the screen you want to shoot. (Note: The screenshot will show up in your desktop.)

MINIMIZE SCREEN: 

⌘

+ M |  Exactly what it sounds like.
DELETE: CONTROL + D |  On a Mac, the "delete" key functions as a "backspace" button, and won't erase characters in front of your cursor. (Unless you have this handy shortcut.)
OPEN NEW TAB: ⌘ + T |  Anyone else a serial tab-opener? Feed your fetish by tapping 

⌘ +

T (then tapping again to  open more!)
OPEN YOUR MOST RECENTLY CLOSED TAB: ⌘ + Shift +T | When you accidentally close a tab, this shortcut's got you covered. Even better: keep hitting 

⌘

 + Shift + T to re-open

all

of your most recently closed tabs.

DICTIONARY: ⌘ + CONTROL + D |  

I'm a

bit of a

total language geek. So, when I want to confirm the origin of cool words like argy-bargy (Scottish, in case you're wondering) or crapulence (Latin and Greek) (yes, really) or if I need to double check a definition, there's nothing better than a dictionary in three keystrokes.
Looking to avoid random shortcut Post-It notes all over your desk? You're in luck! I've made a cheat sheet you can download (or share), right here: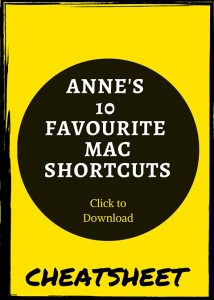 Cheers to efficiency!

WHAT ARE YOUR FAVOURITE MAC SHORTCUTS?
SHARE THEM BELOW, OR ON B & F'S FACEBOOK PAGE.